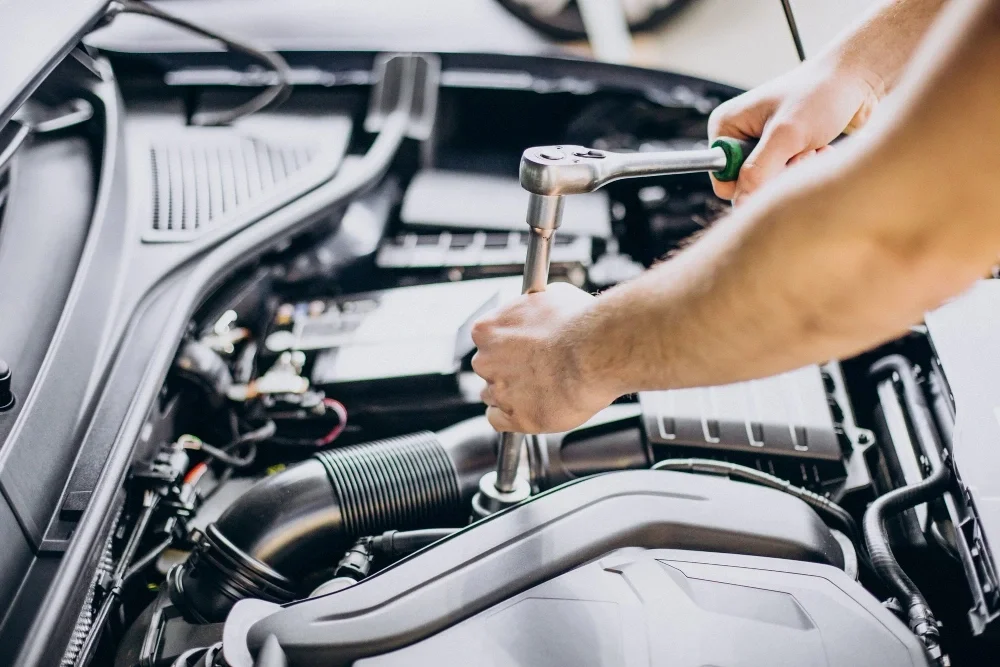 TIPS AND TRICKS TO KEEP YOUR CAR MAINTAINED
As cars become old, they require more attention, and the cost of maintenance for older cars surpasses that of newer ones. Brand-new vehicles can go for a significant period without requiring extensive
car maintenance services
. However, specific components like the oil filter, radiator coolant, transmission oil, and engine oil still need periodic attention.
Now, let's delve into some essential car maintenance services tips and guidelines that are effective for any vehicle. It's also important to embrace automotive technology and make your smartphone your ally, serving as a handy automotive technician for minor issues with your vehicle's functionality.
THE TOP 10 CAR MAINTENANCE TIPS
Here are the top 10 car maintenance services tips to keep your vehicle in top shape at all times. Remember to follow your manufacturer's recommendations, and feel free to share your own tips in the comments section below.
TIMELY REPLACEMENT OF AIR FILTERS
Replacing the air filter every 12 months or every twelve thousand miles is beneficial for your vehicle's performance. Purchase a new air filter recommended by your car's manufacturer, and either has a mechanic install it or follow online how-to guides to do it yourself in just a few minutes.
REPLACE WINDSHIELD WIPERS AS NEEDED
Windshield wipers are often neglected in car maintenance routines, particularly by younger car owners. While some places offer free installation when you purchase higher-end wipers, you can always replace them yourself if budget is a concern. Keep in mind that each car may have a slightly different wiper blade setup, so refer to the owner's manual or online guides for proper instructions.
FAMILIARIZE YOURSELF WITH THE OWNER'S MANUAL
Pay close attention to the owner's manual, as it contains valuable information about your vehicle and its regular car maintenance services schedule. By consulting the manual, you can dispel outdated myths, such as the notion of changing oil every three thousand miles, unless specifically advised by the manufacturer. This fundamental aspect of car care should be noticed.
REGULARLY PERFORM ROUTINE CHECKS
Under the hood, there are routine checks you can perform without needing to be a mechanic. Regular vehicle inspections are essential to prevent significant repair issues, problems, and breakdowns. You don't need extensive knowledge to carry out these checks, and they can save you from costly repairs down the line.
STAY MINDFUL OF TIRE PRESSURE
Pay attention to the importance of regularly checking your tire pressure while getting car maintenance services. Proper tire pressure not only ensures your safety and the safety of your passengers but also saves you from potential problems and expenses. Keep a close watch on your car's tire pressure, as it can fluctuate due to long-distance travel and changes in temperature.
ROTATE YOUR TIRES
Make tire rotation a regular part of your car maintenance routine. Every five thousand or ten thousand miles, change the position of your tires from front to back or vice versa. This practice helps extend the lifespan of your tires, saving you from future damages, risks, and the need for premature replacements.
MAINTAIN A CLEAN VEHICLE
Keeping your car clean is essential for its smooth operation and longevity. Maintaining cleanliness is particularly crucial as your car is exposed to sunlight, grease, grime, and even acidic bird droppings throughout the day. These elements can harm your car's paint. Regularly washing and keeping your car clean can prevent damage and avoid unnecessary repair expenses.
TIMELY REPLACEMENT OF FUEL FILTERS
Don't neglect the replacement of your fuel filter while getting car maintenance services, as it significantly affects your vehicle's proper functioning. Although often overlooked, the fuel filter constantly works when your ignition is switched on, and fuel is pumped. Replacing it before it becomes severely clogged or causes further issues is important.
CHANGE POWER STEERING OIL/FLUID AS NEEDED
Stay attentive to the power steering oil or fluid and change it as necessary. While it may not be a high-priority component for replacement, giving it proper consideration is advisable. Regularly changing the power steering fluid ensures the system is well-lubricated and maintains consistent steering performance.
MONITOR ELECTRICAL COMPONENTS AND LIGHTS
Regularly inspecting the lights and electrical components of your vehicle should be noticed. Ensure that all lights, horns, and other electrical parts are functioning properly for safe travels with regular
car maintenance services
. This practice helps you avoid accidents, unknown risks, and general issues arising from faulty electrical components.