WHEEL RIM RESTORATION
If you're searching for the finest rim repair Dubai shop, we are here to make your life easier. Al Emad Auto Workshop offers top-notch assistance restoring your vehicle rims to their original factory condition, thanks to our highly skilled technicians.
UNDERSTANDING RIM REPAIR DUBAI
Concerns arise among car owners when they observe the deterioration of their car rims. These lightweight and sturdy rims add an aesthetic touch to vehicles. However, factors such as long-term driving, potholes, low-quality tires, inexperienced drivers, and corrosion can contribute to the wear and tear of alloy wheels. In regions with desert climates like Dubai, proper and regular maintenance and rim repair Dubai are necessary for rims that have been damaged or worn out. You can revive worn-out alloy rims functionally and cosmetically by availing of wheel rim restoration services from Al Emad Auto Workshop. Our team of professional experts and top-notch service center in Dubai offers wheel rim repair at competitive prices.
THE IMPORTANCE OF CONSIDERING ALLOY WHEELS REPAIR
Natural wear and tear, scratches, and even accidents can lead to damage to alloy rims. The harsh weather conditions typically experienced in Dubai further accelerate the deterioration of rims. Opting for alloy wheel repair services presents an ideal solution, as it is cost-effective and restores the alloy rims to their pristine condition.
People often overlook small scratches, cracks, and dents on wheel rims. However, these seemingly minor cosmetic flaws can be the root cause of more significant damage. The exposed interior becomes vulnerable to erosion as the exterior alloy chips away. A simple crack could become a reason for huge damage.

SUPERIOR WHEEL RIM REPAIR DUBAI
Alloy wheels offer advantages such as improved braking, reduced weight, and enhanced fuel efficiency compared to steel wheels. However, to extend their lifespan, repair and maintenance are crucial. At Al Emad Auto Workshop, we provide expert solutions for a wide range of alloy wheels repair services. With our extensive network of qualified mobile mechanics, Al Emad Auto Workshop ensures maximum convenience coupled with top-quality service.
COST CONSIDERATION FOR ALLOY WHEEL REPAIR
The alloy wheel repair cost depends on factors such as the number of wheels requiring attention, their current condition, and the chosen service provider. Rims requiring more intensive repairs may incur higher costs, influenced by their size and your vehicle's brand.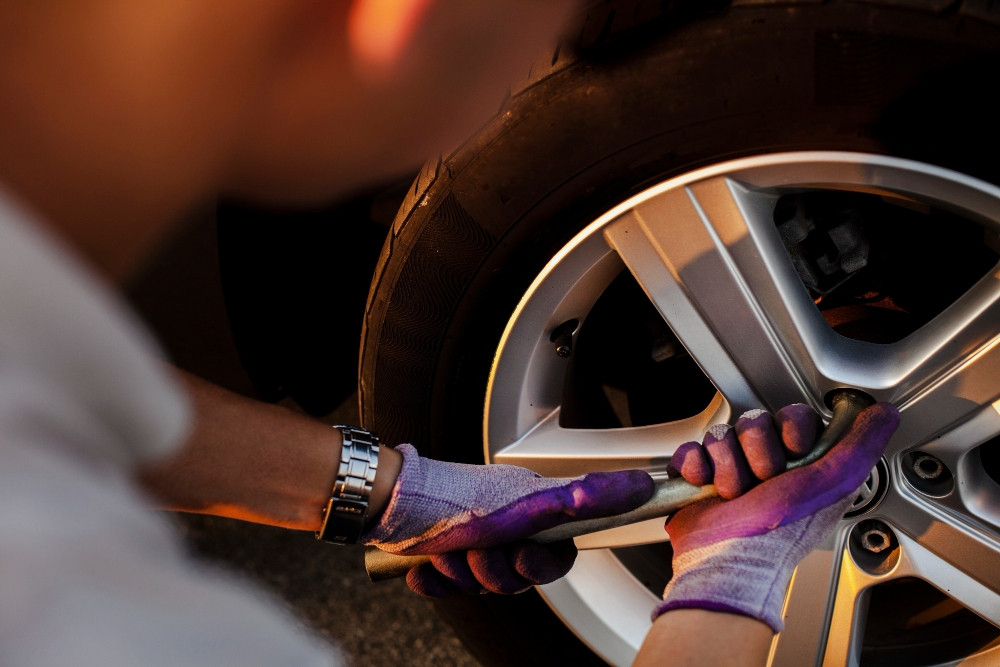 WELDING SERVICES FOR WHEEL RIM RESTORATION
Rather than opting for the expensive option of replacing a damaged alloy wheel, refurbishment proves to be a more viable alternative. Skilled mechanics possess the capability to repair even severe issues like hairline cracks. Once you have decided to search for rims repair near me, reach out to us to inquire about the cost and estimated duration of such repairs.
DIAMOND-CUT WHEEL RIM REPAIR
Diamond-cut wheel rim repair Dubai represents a premium refurbishment service. This meticulous process involves the use of specialized lathing equipment to remove the external layer of the wheel, carried out by our expert technicians.
BENT RIMS OR CRACKED ALLOY WHEELS REPAIR
One way to identify a cracked alloy wheel is to monitor your tires' air pressure while driving. If it significantly drops, it could indicate a cracked wheel. Addressing a cracked alloy wheel as soon as possible is crucial as it compromises the driving experience and can permanently damage the wheel's structure. Most importantly, it poses a risk to the passengers. Rim damage, especially cracks, can occur unexpectedly, often due to poor road conditions like potholes, speed bumps, or uneven surfaces.
The rolling height of cars remains constant, calculated by combining the heights of the wheel and tire. This means that larger alloys have lower sidewalls, making them more vulnerable to damage. The tire acts as a protective barrier, absorbing shocks and safeguarding the alloys. With lower sidewalls, the level of protection decreases, and the unabsorbed shocks gradually impact the wheels.
MAINTAINING PERFORMANCE AND STYLE WITH CAR RIM REPAIR
While it's natural for alloy wheels to sustain damage over time, there is no need to worry. Our car rim repair services are designed to restore wheels to optimal cosmetic and functional conditions, ensuring aesthetics, safety, and performance. One initial solution for addressing this issue is welding. First, the cracked wheel is carefully ground around the cracks to ensure that the weld only contains the alloys without any foreign materials. This is followed by a cosmetic repair process to restore the wheel's appearance. While alloy wheel refurbishment services generally offer a suitable solution for most cases, our skilled mechanics may occasionally recommend a replacement. For instance, if the wheel exhibits three cracks or extensive damage, it may be time to consider getting a new one.
FIND A RIMS REPAIR NEAR ME
The best way to assess service is by reviewing customer feedback, and we prioritize transparency in this regard. Feel free to evaluate us by checking out the reviews section on this website or by visiting our business page on Google. Our satisfied customers have provided valuable feedback on our services and products, giving you insights to help you decide whether to choose us. Purchasing our services is hassle-free, requiring only essential information, while our dedicated service centres handle the rest.
Regarding alloy wheels repair, trust Al Emad Auto Workshop for exceptional services that meet your needs and exceed your expectations.